Online Bachelor of Science in Business Program
Launch a Successful Business Career
Transfer & Prior Learning Credit
Learn More Today
Complete the form to learn more about Adelphi's programs. An enrollment counselor will reach out to you to discuss coursework, financial aid and more.
Duration

2-3 Years

Cost per Credit

$475

Credit Hours

60-120*
Program Benefits
Personalized learning experience
AACSB accredited
Practical coursework
Robust career services
US News & Word Report Best Undergraduate Business Program 2023
*A maximum of 60 transfer credit hours may be accepted, subject to approval, which will affect the final number of credit hours and tuition. To learn more about credit for prior learning click here.
Explore the Fundamentals of Business
As a comprehensive business degree, our BS in Business program is designed to help adult and continuing learners to move up in in companies and organizations in any field. Our faculty is drawn from the Willumstad School of Business and are expert practitioners who pride themselves on sharing their knowledge.
This program also prepares students for an advanced degree. It's never been easier to get back to learning and ready yourself for the future career you deserve.
Gain Essential Business Knowledge
Hone your management and leadership skills to carve your own path in business. Through Adelphi University's online BS in Business Courses, you'll learn the foundational principles of business and how to apply them in a variety of settings.
This AACSB-accredited program offers 30 major courses, covering topics in international business, marketing and more. Our expert faculty will be there to help you along the way, and depending on your transfer credits, you can graduate in as few as two semesters.
BS in Business Courses
Review absolute value, polynomials, linear and quadratic equations, and inequalities. Learn to graph lines and inequalities. Learn how to graph polynomial and rational functions, and exponential and logarithmic functions, understand their properties, and find their roots, extrema, asymptotes, and discover their applications.
An analysis of economic decision making, combined with the study of contemporary economic institutions, problems and policy alternatives. Examines scarcity and choice, the price mechanism and planning, the structure of American business and labor, and issues such as income distribution and the role of government in economic affairs.
Learn the theory of national income determination; the goals of full employment, price stability, and economic growth. Examine alternative uses of fiscal and monetary policy, how the national economy operates, and with what consequences.
Analyze the principles of persuasive communication, both written and spoken. Examine the techniques of business report writing, Agood news@ and Abad news@ letter, and other business correspondence, learn how to give an oral presentation or speech, and examine the characteristics of non-verbal communication. Papers and oral reports required.
Research and report presentation, both written and oral. Emphasis on clarity and conciseness in writing applied to business letters, memos, and short and long reports; persuasive speaking to one or many; communication skills for the work place.
Introduces both accounting and non-accounting majors to the principles and theories of accounting, including the preparation and use of financial statements. Other topics covered: inventory costing, accounting for receivables and payables, fixed assets, payrolls, and cash flow analysis.
This course introduces both accounting and non-accounting majors to the cost information needs of management and the use of accounting information for decision-making and control. Topics include operating costs, cost behavior, budgeting, job order costs, cost-volume-profit analysis, responsibility accounting, standard costing, pricing decisions, capital budgeting and financial statement analysis.
Prerequisite 1: ACC 101 
This course examines the nature and impact of law and ethics on the domestic and international operations of a business enterprise. The law is studied as an instrument of social change. Specific attention is paid to regulatory agencies, unions and labor relations, antitrust, consumer affairs, environmental impact, and contracts. The course also addresses the relationship of ethics to profit, social responsibility, government relations, and the role of business in society.
Prerequisite 1: MGT 262 
This course uses lectures, case studies and class discussions to examine the foundations of international business, its fundamental forms and objectives.  Major environments affecting the growth of international business are compared including legal, cultural, economic, political, financial, and technological.  Finally, management actions in the international context are described and explored.
Prerequisite 1: MGT 262 (ECA 111 and ECA 112) or ECA 101
Note: Business majors are required to take ECA 111 and 112.
Management is the art and science of achieving goals collectively. Students will understand the management process – planning, organizing, leading, controlling, and the challenges in implementing good management practices that are evolving in response to the digital economy. They will also analyze comparative management styles and competencies of effective managers.
This course explores the role of marketing in the global marketplace. Exploring a consumer perspective, the course exposes the student to the philosophies, concepts, and skills needed to manage the marketing function. Topics include an examination of the structure of the marketing process, including opportunity analysis, relationship marketing and consumer orientation, segmentation and the development of marketing strategies and the marketing mix, including E commerce with a focus on the use of information management to develop marketing strategies and tactics.
Examine the concepts and tools required to make financial decisions in a corporate setting. Study time value of money, introduction to valuation of financial securities, capital budgeting, and risk and return.
Prerequisite 1:  ACC 101 and (MTH 110 or MTH 140 or MTH 141 or MTH 142). Business majors are required to take ECA 111 and ECA 112 
*Must take MTH (0144)110- Precalculus for Business and Life Sciences before
Introduces organizational behavior, the social-scientific study of individuals and groups in work organizations. Organizational behavior deals with the changes occurring in today's workplace, including changes in job design and organizational structure, multicultural diversification of the work force, and the increasing importance of work teams. Built on findings from psychology, social-psychology, sociology, and cultural anthropology, this course examines employee motivation and job satisfaction, factors influencing levels of job performance and psychological dimensions of the work environment. It also discusses personality differences, managerial effectiveness, and stress at work. Individual, group, and social impact on outcomes are studied.
This senior-level course integrates and synthesizes the concepts and techniques developed in prior courses in order to construct a rational basis for developing business objectives and strategic plans. Problem identification, strategy formulation, and decision implementation issues are stressed. Business simulation, case studies, and role playing are some avenues taken to convey course content.
*A maximum of 60 transfer credit hours may be accepted, subject to approval, which will affect the final number of credit hours and tuition.
Adelphi Admissions Details
Up to 60 Transfer & Prior Learning Credits
Scholarship Opportunities Available
Apply now to earn your Bachelor of Science in Business degree from Adelphi University. Here's what you'll need to get started:
| | |
| --- | --- |
| Degree | Completion of a four-year secondary school |
| Transcripts | Official transcripts from all prior institutions |
| Other Requirements | Other requirements include a résumé, letter of recommendation, personal essay and a $50 application fee. Additional documentation may be required for students applying for Credit for Prior Learning. |
| Online Application Form | Apply Now |
International Students
Adelphi University welcomes international students. Here's what you'll need to get started:
| | |
| --- | --- |
| Degree | Graduation from a four-year secondary school |
| Transcripts | Official transcripts from all prior institutions in both English and the original language |
| Other Requirements | Other requirements include a résumé, letter of recommendation, SAT/ACT or English proficiency exam (TOEFL, IELTS, or DET) scores, personal essay and a $50 application fee |
| Online Application Form | Apply Now |
You can learn more on our international student page.
Transfer Credits
The BS in Business program allows up to 60 transfer credits, depending on the prior learning assessment, which are subject to approval. A minimum of 30 must be taken at Adelphi. To learn more about credit for prior learning click here.
When to Apply
Apply now to earn your Bachelor of Science in Business degree from Adelphi University. With three start dates per year, it's never been a better time to take the next step. Call 855.476.7985 to learn more.
An Affordable Degree in Business
$28,500-$57,000** Total Tuition
The online Bachelor of Science in Business program offers a cost-effective way to expand your knowledge of business and advance your career. We have a team that's dedicated to answering your financial questions and they'll be there to assist you with financial aid, scholarship opportunities, loans and military benefits.
| | |
| --- | --- |
| Cost per credit hour | $475** |
| Total number of credit hours | 120* |
| Total estimated cost, minus fees | $28,500-$57,000** |
| Additional fees, if applicable | $50 application fee |
*A maximum of 60 transfer credit hours may be accepted, subject to approval, which will affect the final number of credit hours and tuition.
Military Students
An application fee waiver is available to all military personnel and veterans. To learn more about this and other benefits for servicemembers please visit our veterans and military resource page here.
Financial Aid Opportunities
When you apply to Adelphi University, we suggest you fill out the FAFSA® as soon as possible. Adelphi's FAFSA® number is 002666.
In addition to FAFSA® and any financial aid Adelphi University can offer, we encourage you to search for tuition assistance from your employer, grants or scholarships. You can also speak with an Adelphi enrollment counselor at any time to explore your options by calling 855.476.7985. Find out more about financial aid.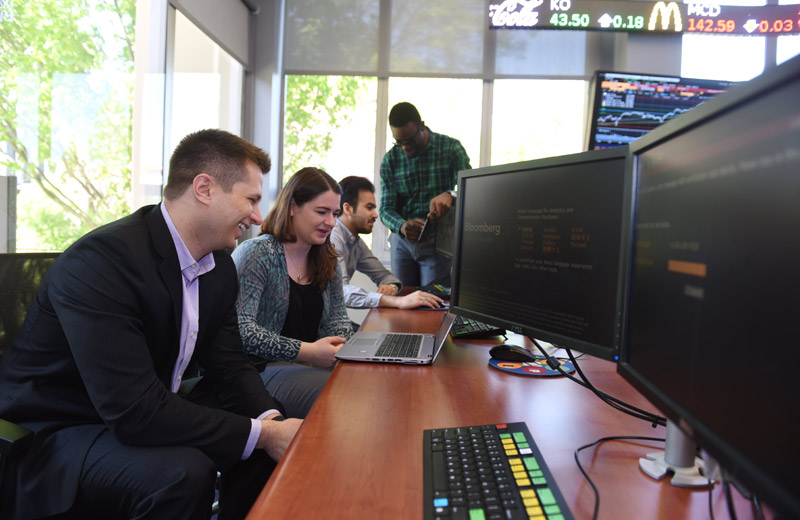 Find Your Place in the Business World with an Online BS in Business
Business is a field that's always growing, and the skills you learn in our program are applicable in many different industries. Upon graduation, you'll be prepared to further your career in management, marketing, consulting, finance, insurance and more.
Employment in business and financial operations is projected to grow 8% from 2020 to 20301
The median annual wage for sales managers was $130,600 in 20222
About 73,400 openings for human resources specialists are projected each year, on average, over the decade3
Robust Career Services
As an online student, you will have access to comprehensive support through our Center for Career and Professional Development. Our team of career educators can prepare you for professional success through services like Handshake, recruitment programs and job fairs.
The Business World Awaits
Sales Manager $130,6002 Per year
Financial Analyst $95,0804 Per year
Budget Analyst $82,2605 Per year
Marketing Manager $140,0406 Per year
Program Outcomes and Skills Acquired
In this program, you'll learn key business principles that will help you excel in a wide variety of fields. The program will help you understand how to apply these principles and what they mean in the larger context of the business world.
What You'll Learn
Gain valuable skills for success in your business career.
Benefit from a range of knowledge, skills and perspectives across business disciplines.
Build valuable leadership competencies for professional advancement.
Skills You'll Gain
Communication
Business Analytics
Strategic Management
Leadership
Team building
Negotiation
Entrepreneurship
Faculty Spotlight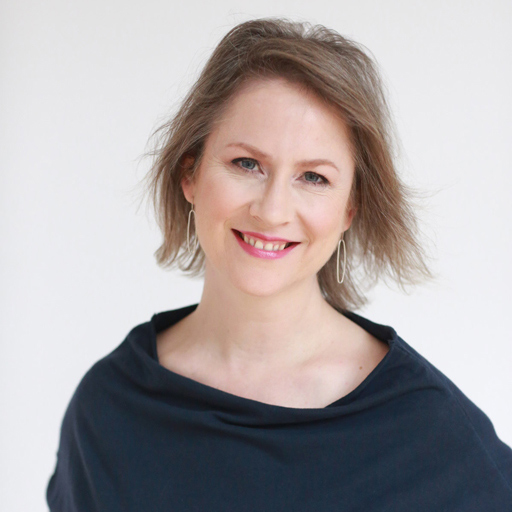 Pamela Buckle, MBA, Ph.D.
Professor Buckle lives in Brooklyn, New York. She's worked in the not-for-profit, private, and public sectors, and has been an organizational effectiveness consultant in the arts, media, engineering, and oil and gas industries in Canada and the United States.
As a management professor, Professor Buckle provides students with tools and strategies to understand the complexities of organizational life. In every course, she works to provide people with the awareness they need to make effective choices in the workplace.
As a researcher, she collaborates with international colleagues studying cognitive and emotional processes involved in systems thinking, and systemic perspectives on climate change. Pamela publishes her research in systems, management, psychology, education, and project management journals.
In the global academic community, she's a Fellow of the European School of Governance, is on the Executive Committee of the International Federation for Systems Research, and is on the Board of Directors of the International Society for the Systems Sciences.
Get Support from Experienced Faculty
Our faculty members are expert practitioners in their fields and are dedicated to supporting our students and helping them grow as learners. Through the course of your study at Adelphi, they'll be here to give you guidance and help you with your questions so you'll always feel supported.
"I've come to grasp the importance of advancing my education to attain success. A degree from Adelphi will arm me with the essential tools to reach my potential."

– Brenda D. Williams, mother and a recipient of the College of Professional and Continuing Studies' 2023 Mother-Scholar Childcare and Technology Award, pursued a BS in Business to start a consulting business.
Online Study at Adelphi University
By enrolling in Adelphi University's online programs, you're gaining access to a team of supportive faculty and top-notch student services. Online study at Adelphi includes:
Explore the Online Experience
Answers to Common Questions
Explore our FAQs to learn more about the BS in Business. Reach out to us for more information if your question is not included here.
You can earn the online Bachelor of Science in Business degree in as few as two semesters, although the average is two to three years. Total duration depends on the number of transfer credits accepted as well as the prior learning assessment.
Yes. U.S. News & World Report 2023 for Best Undergraduate Business Programs ranking in the top 15% in the nation. Also, the Princeton Review ranked the Willumstad School of Business a Best Business School in 2021.
You'll complete 120 credits to earn the Bachelor of Science in Business degree, however, the total number of credit hours may vary depending on your transfer credits. You can review courses on the BS in Business program page.
Those who hold a BS in Business often pursue careers in business administration, management, banking, accounting and more. Learn about your career options by visiting our program overview page.
Visit our FAQ page
Sources and Citations
**$475 cost per credit and total tuition apply to students enrolling for the Fall 2023 term and beyond. The current cost per credit for the program is $650