Online MPH - CEPH Accredited
Promote Health Equity in Your Career
Learn More Today
Complete the form to learn more about Adelphi's programs. An enrollment counselor will reach out to you to discuss coursework, financial aid and more.
Duration

2–3 Years

Cost per Credit

$850

Credit Hours

45
Program Benefits
Personalized attention from instructors
Small classes
Unique focus on vulnerable populations
Robust career services
Advanced Expertise to Make an Impact
Advance your public health career in as little as two years and make a difference locally and globally with the CEPH-accredited online MPH program from Adelphi University. As an online student, you'll receive personalized attention from industry-experienced instructors and career services experts to ensure you receive the support you need to further your career.
The program's curriculum focuses on the health issues of underserved and vulnerable populations to prepare you to develop effective solutions. You'll gain hands-on experience through fieldwork and a capstone project designed for integrating and applying classroom learning.
Gain the Skills to Create Solutions
The courses required for the online MPH program focus on communities with an emphasis on underserved and vulnerable populations to prepare and develop effective solutions. Through small classes taught by industry experts, you'll examine the environment's impact on humanity and epidemiology on a global scale.
Core Courses
Students will be provided with an orientation to population perspectives on health. The main focus will be: 1) conceptual understandings of the distinction and relationships between individual and area level determinants of health, 2) measurement of population health, health disparities, and their primary determinants, 3) causality and causal connections.
Students will be introduced to major communicable diseases, chronic illness and conditions that face U.S. and Global populations. Public health interventions to address potential, emerging and reemerging public health conditions and communicable diseases will be addressed.
Students will focus on the etiology of public health problems from a socio-ecological perspective. Concepts such as social capitol, social identity, social networks, discrimination and religion are addressed as social factors that close or contribute to health disparities. Theoretical underpinnings are illustrated in health promotion and disease prevention interventions.
Students will be introduced to the basic concepts of epidemiology and biostatistics as applied to public health problems. Emphasis is placed on the principles and methods of epidemiologic investigation, appropriate summaries and displays of data, and the use of classical statistical approaches to describe the health of populations.
Students will examine the organization, structure, and function of public health policy in the United States. Relationships between healthcare coverage, access, cost, and quality are investigated, emphasizing health equity and ethics. Stakeholders' roles and strategies in policymaking are explored as students develop coalitions and participate in a mock legislative hearing.
Develop a working knowledge of today's issues in environmental health. Incorporate various activities and methods to enrich instruction in environmental health.­ ­
This course prepares the graduate student for statistical methods for public health research. Statistical procedures relevant to public health research will be presented. These procedures will be further emphasized through the use of statistical software with research data. Also, statistical methods will be critiqued from published public health research.
Students will learn a framework for effective decision-making at each step of public health program planning, including how to: use theory and evidence in intervention development; explain a logical mapping of public health solutions; and create activities for implementation and questions for evaluation.
Students will be introduced to social research methods in public health. The course will cover theory and its relationship to research methods, critical inquiry and argument, the development of research questions, synthesis of the literature, research design, data analysis, ethical issues in research and research dissemination.,Course Number 0304-575 Principles of Public Health Practice,
Students will examine the most vital accounting and financial management principles and concepts relevant to health services organizations.  Subjects include estimating costs, pricing decisions and profit analysis, planning and budgeting, resource management, business financing, capital investments, cash flow, risk and variance analysis, and reporting assets and profits.
Students will complete a 180-hour field placement experience in an organization that addresses public health issues. Students apply public health principles and theories to practice. Working with a qualified preceptor and faculty mentor, students synthesize and integrate core knowledge and skills in a professional practice setting.
Students will develop a proposal for their culminating capstone project. Students will formulate a research question that addresses a population health issue.
Students will synthesize and apply knowledge acquired throughout his or her graduate study. S/He will develop a health issue that was identified in their capstone proposal. A complete evidence-based project will have: a problem identified, a relevant literature review, detailed methods, results and/or conclusions of their study.
Elective Courses
Students will learn the concepts of community, community health improvement and the role of different assessment types. Topics cover:  secondary and primary data resource identification; qualitative assessment methods; assessment tools; and procedural thinking that lead to coordination of public health activities in achieving community health goals.
Examines the roles and responsibilities of public health when disasters strike. Studies the strategies employed by federal, state and local healthcare entities as they identify, mitigate and recover from natural, accidental and malevolent catastrophes. Special consideration is given to geophysical/weather-related disasters, anthropogenic emergencies and weapons of mass destruction.
This course prepares the graduate student for efficient use of information and communication technology in healthcare. Three knowledge domains are addressed: methods and ,technology for the processing of data, information and knowledge; health system organization; and informatics and computer science. This course will allow learning opportunities to apply informatics knowledge.
Students will explore major global health issues, challenges, programs and policies. Students will analyze current global health priorities, including emerging infectious diseases, poverty, conflicts and emergencies, and health inequity.
Students will learn to apply important epidemiologic concepts to study designs and investigation of the health of populations. Students will learn to describe the tools to design, carry out, and interpret the results of quantitative studies.
This course covers essential computer-based techniques for a public health researcher; data entry, editing, management, sub-sample selection, and basic analysis. It is an introduction to the use of the SAS programming language for the analysis of public health or biomedical data. After an introduction to the SAS environment on a PC, SAS will be used to write programs for reading and processing data, and for performing descriptive, regression, and other basic statistical analyses. SAS is used extensively.
Adelphi Online MPH Admissions Details
Earn your Master of Public Health degree online from Adelphi University. Submit your application today.
| | |
| --- | --- |
| Degree | Bachelor's degree from an accredited institution |
| Transcripts | Official transcripts from all prior institutions |
| Other Requirements | Résumé, two letters of recommendation, personal essay and a $60 application fee |
| Online Application Form | Apply Now |
International Students
Adelphi University welcomes international students. Here's what you'll need to get started:
| | |
| --- | --- |
| Degree | Bachelor's degree from an accredited institution |
| Transcripts | Official transcripts from all prior institutions in both English and the original language |
| Other Requirements | Résumé, two letters of recommendation, English proficiency exam (TOEFL, IELTS, or DET) scores, personal essay and a $60 application fee |
| Online Application Form | Apply Now |
You can learn more on our international student page.
Transfer Credits
The online MPH program accepts up to six transfer credit hours. All transfer credits must be approved no later than the first semester of admission in the program and must be earned from a CEPH-accredited degree program.
When to Apply
Apply now to earn a CEPH-accredited MPH online from Adelphi University. Choose from two annual start dates and take one step closer to career advancement.
An Affordable, CEPH-Accredited MPH Program
The online Master of Public Health program is an affordable route to career advancement opportunities within your field. From scholarships to student loans, we are committed to helping you understand your options regarding financing your education.
| | |
| --- | --- |
| Cost per term | ~$2,550 |
| Total number of credit hours | 45 |
| Total estimated cost, minus fees | $38,250 |
| Additional fees | $60 application fee |
Military Students
An application fee waiver is available to all military personnel and veterans. To learn more about this and other benefits for servicemembers please visit our veterans and military resource page here.
Financial Aid Opportunities
When you apply to Adelphi University, we suggest you fill out the FAFSA® as soon as possible. Adelphi's FAFSA® number is 002666.
In addition to FAFSA® and any financial aid Adelphi University can offer, we encourage you to search for tuition assistance from your employer, grants or scholarships. You can also speak with an Adelphi enrollment counselor at any time to explore your options by calling 855.476.7985. Find out more about financial aid.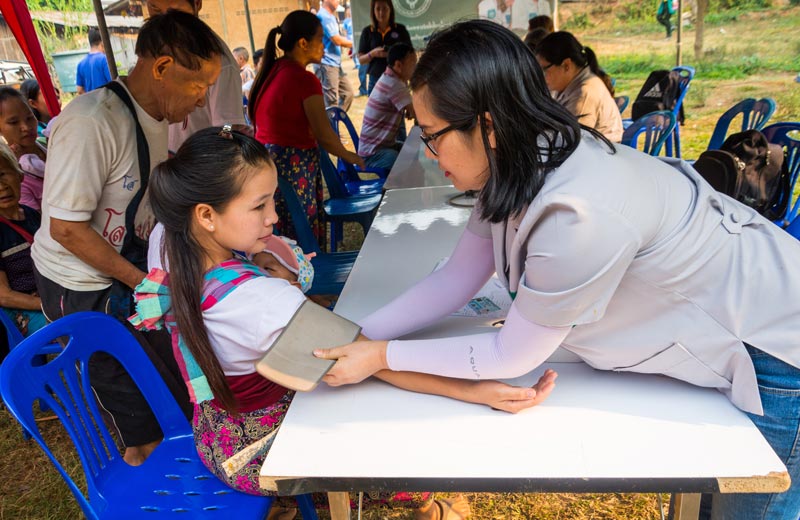 Explore New Opportunities in a Fast-Growing Field
Our online MPH program is designed to help you advance in your public health career as a leader and an advocate. When you graduate with your master's, you'll be fully equipped to address local and global health issues and take on many of the most in-demand roles within the field.
Employment in epidemiology is expected to grow 30% by 20301
More than 21,000 new community health and health education jobs are expected to be created by 20302
Robust Career Services
As an online student, you will have access to comprehensive support through our Center for Career and Professional Development. Our team of career educators can prepare you for professional success through services like Handshake, recruitment programs and job fairs.
Advanced Opportunities
Epidemiologist $78,5201 per year
Facility Manager $99,0302 per year
Health Services Manager $104,8303 per year
Emergency Management Director $79,1804 per year
Program Outcomes and Skills Acquired
As you complete the online MPH program, you'll examine today's most urgent public health issues and learn how you can make a positive impact in the lives of those in vulnerable populations. You'll build skills to develop effective health solutions and gain leadership expertise to stand out as a trusted voice in the field.
What You'll Learn
Understand how social and behavioral issues impact the field of public health, specifically in vulnerable populations.
Make connections between the state of public health in diverse communities and the impact of environmental stressors and access to public health programs and services.
Skills You'll Gain
Public Health Assessment
Healthcare Finance
Social Research
Strategy Development
Health Management
Faculty Spotlight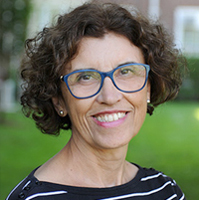 Maria-Pilar Martin, Assistant Professor College of Nursing and Public Health
Maria-Pilar Martin, MD, MPH, specializes in health inequities, specifically those affecting Hispanics and Haitians. She worked with the Spanish Medical Association, the Spanish Society of Epidemiology, and the American Public Health Association during the pandemic. She is executive director of International Health Connection, a nonprofit devoted to public health and health education she founded after serving in Haiti in the aftermath of the 2010 earthquake.
Get Support from Experienced Faculty
Our faculty members are expert practitioners in their fields and are dedicated to supporting our students and helping them grow as learners. They take pride in working with students, which is made possible by our small class sizes. Through the course of your study at Adelphi, they'll be here to guide you and help you with your questions, so you'll always feel supported.
Online Study at Adelphi University
By enrolling in Adelphi University's online programs, you're gaining access to a team of supportive faculty and top-notch student services. Online study at Adelphi includes:
Explore the Online Experience
Answers to Common Questions
Browse our FAQs to find answers to your questions regarding the online MPH program.
You can complete the online MPH program in as few as 18 months. Total duration depends on the number of transfer credits accepted.
The cost for the online MPH program is $850 per credit. There are 45 required credits total.
Yes. The online MPH program accepts up to six transfer credit hours. All transfer credits must be approved no later than the first semester of admission in the program and must be earned from a CEPH-accredited degree program.
The online MPH degree requires you to complete 45 credits. You can review all courses and descriptions on the online MPH page.
The online MPH program is accredited by the Council on Education for Public Health (CEPH).
Students who complete the online MPH degree graduate with the skills to pursue advanced opportunities within the field, including positions such as hospital administrator, epidemiologist, public health educator, emergency management director and more. Learn about your career options by visiting our program overview page.
Visit our FAQ page